Entrust us with the management of medical certificates and health questionnaires and focus on the management of your club.
Dokeop is a platform for managing supporting documents (medical certificates, health questionnaires, parental authorizations ...) designed to facilitate your life as a club manager and that of your licensees.
No more hassle with paper medical documents
Thanks to Dokeop, the management of your documents (medical certificate, health questionnaire attestations, parental authorization, ...) becomes a real child's play.
I continue to manage the license requests via my membership platform or I import directly the file of my licensees on Dokeop.
Dokeop collects, processes and archives the supporting documents of my licensees in accordance with the regulations of my federation.
I check the status of each licensee on my membership platform or my personal Dokeop space.
Invite your licensees to use our medical certificate generator.
Free, fast and 100% compliant with current legislation.
For each model of Dokeop certificate used, you benefit from priority treatment in less than 24 hours.
Secure the entire document verification processSecure the entire document verification process
In the daily life of a club, the obligation to collect and verify various documents is a real constraint for all administrative teams, Most of the time volunteers: waste of time, responsibility, archiving of documents, management of complaints in case of document refusal, lack of legibility of the law and the regulations of the federations in force, etc. The recent developments in the law on the end of the medical certificate for minors bring even more complexity to the management of the clubs.
Dokeop provides a simple, reliable and innovative solution to deal with this sensitive issue for federations, clubs and their members.
Time saving
Save precious time by entrusting us with the collection, processing and archiving of your licensees' supporting documents. We also manage the relationship with the licensees in case of questions or complaints following a refusal.
Responsibility
Dokeop relieves you of the responsibility of verifying your licensees' supporting documents.
Multi-documents
Dokeop manages all types of documents required to obtain or renew a license: medical certificate, health questionnaire, parental authorization, insurance acceptance, etc...
Security
All your licensees' documents are hosted on secure servers in France and accessible from all devices.
Completeness
With our progressive reminder system, maximize the number of complete files at the beginning of a new season.
Conformity
Supporting documents are validated in accordance with current regulations. An advanced system of detection of false documents limits fraud.
Know more
Easy start-up
If your club is not connected with a management platform, the import of licensees can be done via file or directly by manual entry.
Respect of data
Your licensees' data belong to you. Dokeop will never use them for commercial purposes.
Know more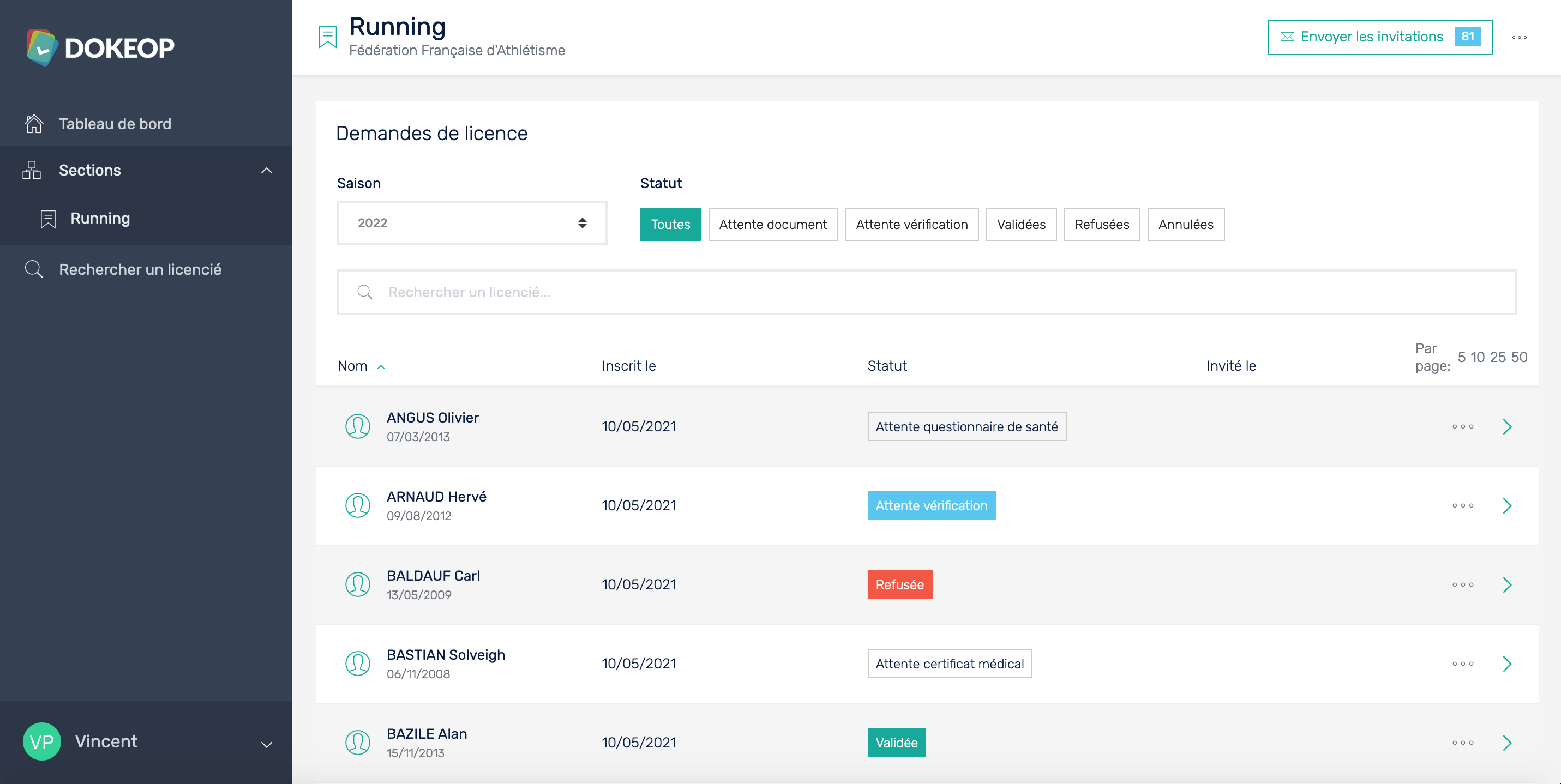 Track progress at a glance
Thanks to the personalized dashboard, you have the possibility to follow the day-to-day progress of license applications and statistics on the collection and verification of documents. View the detailed verification report for each document. of each document.
The ideal solution to help federations to digitalize their offer
The rise of digital technology has changed the way federations operate on a daily basis. The use of digital tools is more and more popular with by athletes and association leaders. New participants now consume sport differently, This is why it is important for sports institutions to integrate this digital transformation into their development process.
The Fédération Française des Clubs Omnisports is the first federation to trust Dokeop for the management of supporting documents related to its license-insurance.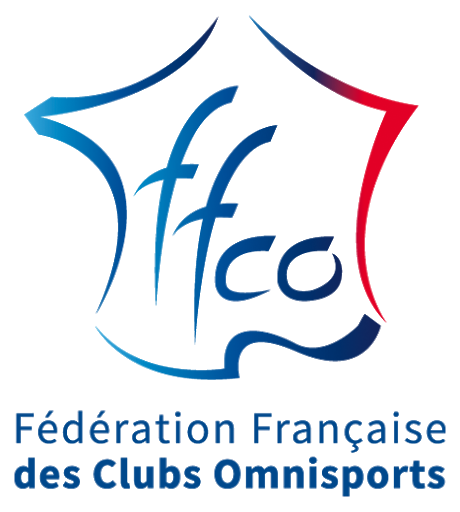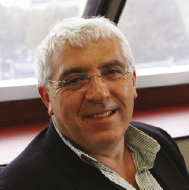 Gérard PERREAU-BEZOUILLE
Président FFCO
« This partnership with Dokeop is a response to the increased demand from our affiliated clubs. In this particular context following the crisis of the COVID-19 and in the optics of the resumption of the activities the French Federation of Omnisports Clubs wanted to offer new possibilities to the leaders. In the past, the management of medical certificates has always been complicated for our volunteers. Indeed, we have to comply with the legal obligations in the scope of the validation of a license. Thanks to this partnership, we will be able to lighten the volunteers' workload. This service will be offered to two different targets: non-affiliated associations and our member clubs for the next sports season. »